Start the new year with a big bowl of warm and comforting vegan split pea soup! This hearty mix of green split peas, carrots, celery, onion, and green cabbage simmered with flavorful herbs is the ultimate comfort food. Whether you choose to cook it in your slow cooker, Instant Pot, or on the stovetop, this recipe is extremely healthy and easy to make. So grab your apron and let's get cooking!
Ingredients You'll Need
To make this delicious vegan split pea soup, gather the following ingredients:
Split peas
Cabbage (green, napa, or savoy)
Onion (any color will do)
Garlic
Celery
Carrots
Herbs de provence + bay leaves
Vegetable broth (I recommend 1 teaspoon Better Than Bouillon Veg Paste with water as your liquid base)
Now that you have everything ready, let's put it all together!
How To Make Vegan Split Pea Soup
Making split pea soup is a breeze, whether you're using a slow cooker, Instant Pot, or stovetop. Follow these simple steps:
Place all the ingredients into your chosen cooking vessel, finishing with the liquids to prevent splashing.
Cook on LOW for 8-10 hours or HIGH for 5-6 hours.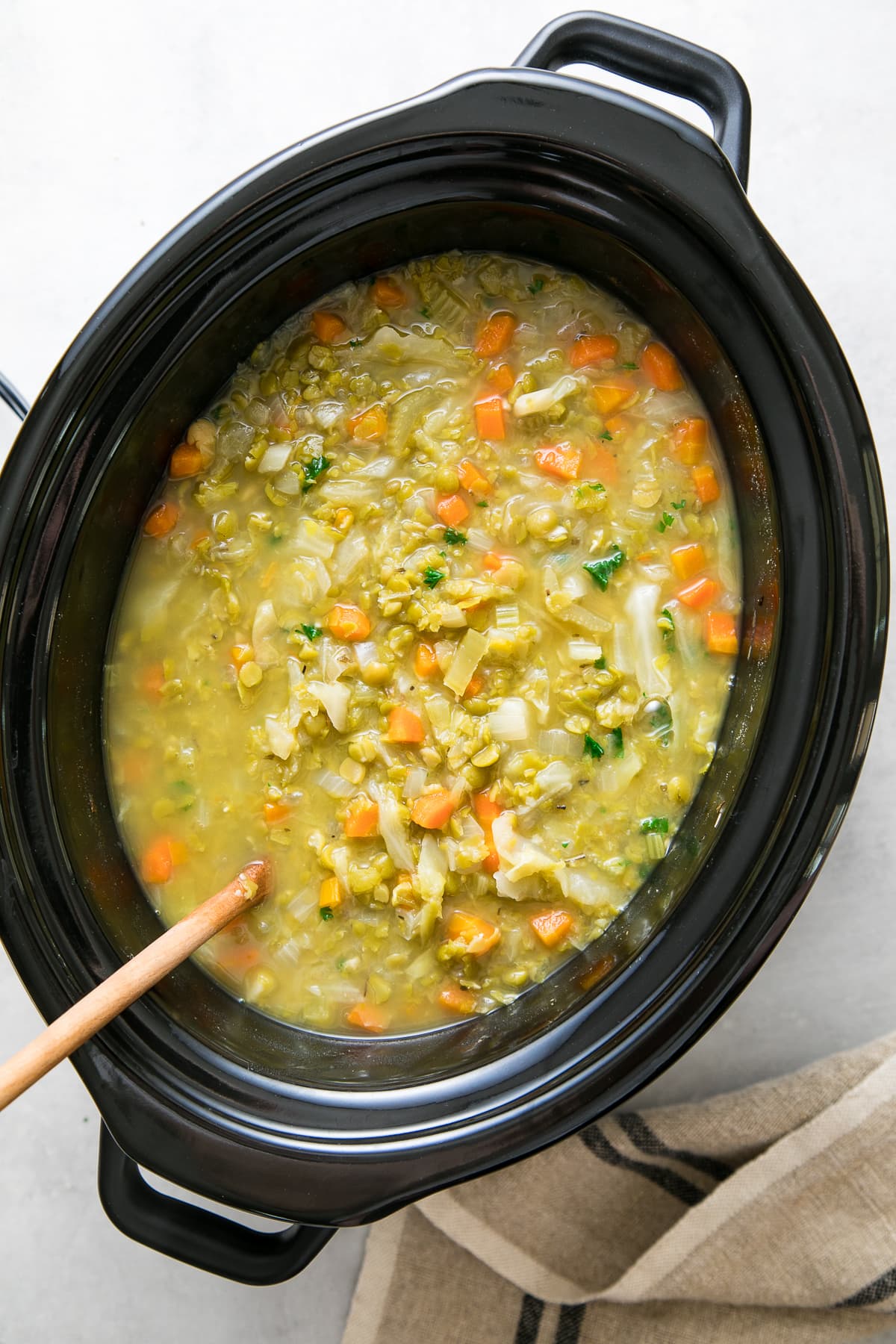 Once it's done, give the soup a good stir. The split peas will have broken down nicely, creating a nicely textured soup. Let it cool for a bit and then remove the bay leaves.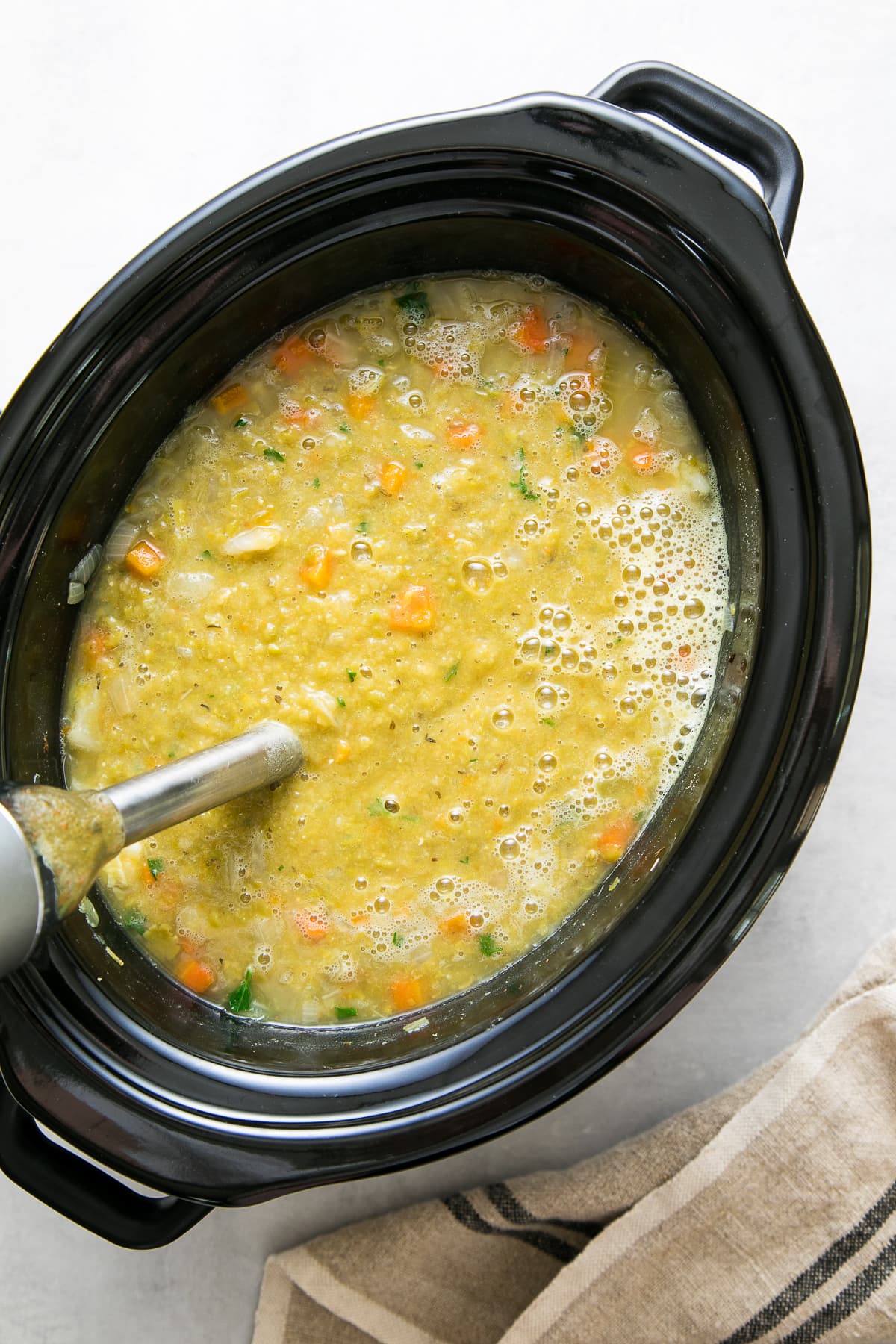 Using an immersion blender, puree the soup until you reach your desired consistency. You can make it silky smooth or opt for a chunkier texture. If you prefer, you can also enjoy it as is!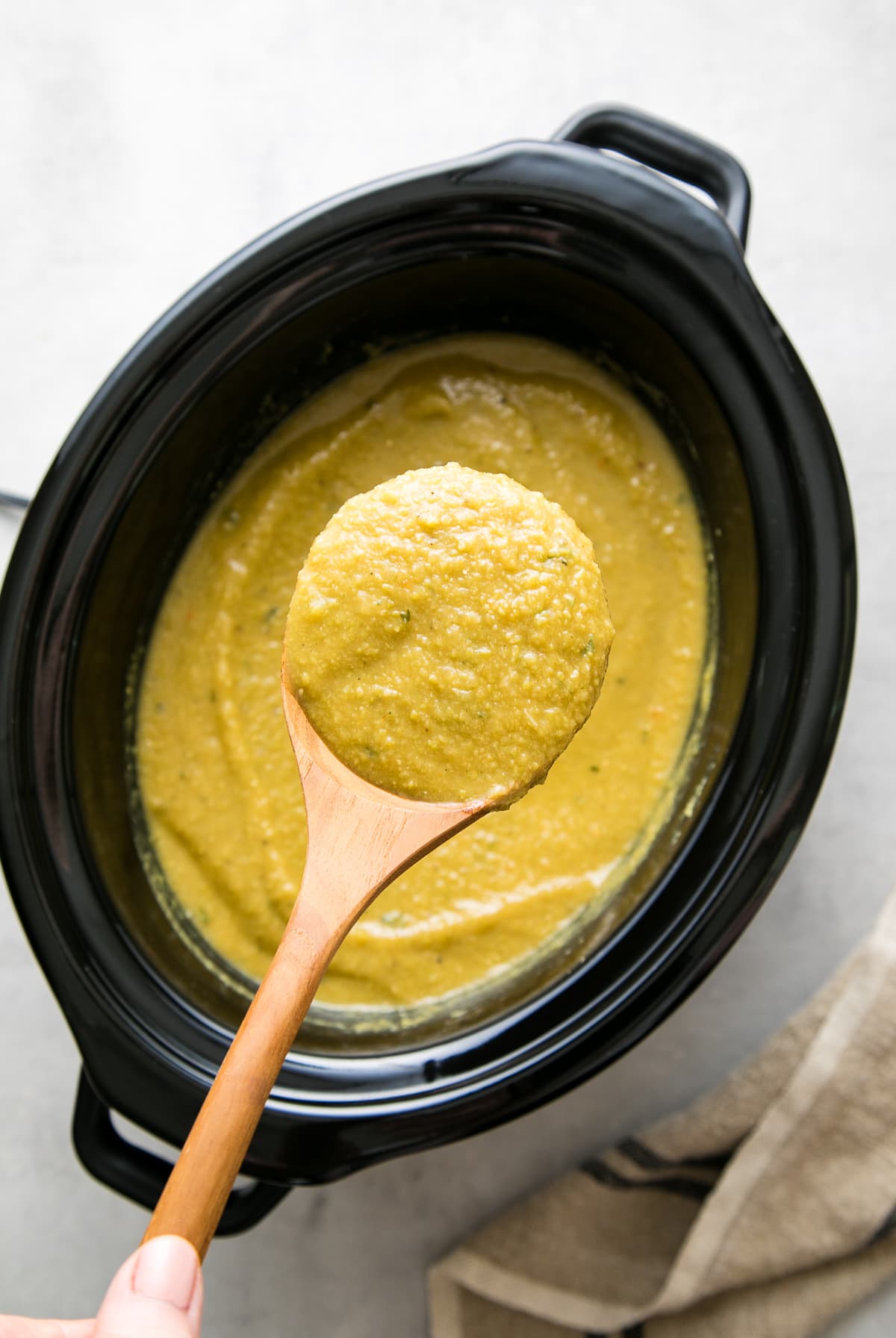 How To Store
Leftovers will keep in the refrigerator for 5-6 days when stored in a covered container. If you want to freeze the soup, it is freezer-friendly and can be stored for up to 2-3 months. Make sure to let it cool completely before storing in freezer-safe containers, leaving 1/2 inch of headspace for expansion. Thaw the soup before reheating.
To reheat, simply warm it up on the stovetop over low heat until it's warmed through. Alternatively, you can use the microwave, reheating in 30-60 second intervals and stirring after each interval until warm.
Serving Suggestions
This split pea soup is super hearty on its own, but you can elevate the flavors with some delicious toppings or side dishes. Here are a few ideas to get you started:
Serve with a slice of homemade Artisan Bread, soft and chewy Vegan Naan, or gluten-free Socca.
Top it off with Crispy Roasted Chickpeas, Coconut Bacon, seasoned croutons, or diced fresh carrots for added texture.
Pair it with a side House Salad, Vegan Caesar Salad, or Radish & Cucumber Salad.
Enjoy it with fresh veggie sticks and Classic Hummus, White Bean Hummus, or Vegan Ranch for dipping.
More Easy Soup Recipes!
If you're a fan of soup, here are a few more easy and delicious recipes you should try:
Parsnip & Split Pea Soup
Lemon Chickpea Orzo Soup
Vegetable Quinoa Soup
Vegan Potato Leek Soup
And of course, you can find even more vegan soup recipes on the Takeout Food website!
If you try this split pea soup recipe, please let me know! Leave a comment and rate it below. I would love to hear what you think or any changes you made.
Updated: Vegan Split Pea Soup was originally published in January 2017. It has been updated with new photos and helpful tips in April 2020.
FOLLOW Takeout Food on Facebook, Instagram, Pinterest, or RSS for more updates and inspiration!