Introducing a quick and delicious way to elevate your meals – sauteed bell peppers and onions! Whether you're a fan of burgers, sandwiches, rice dishes, or even fajitas, this versatile combination is sure to satisfy your taste buds. In just under 30 minutes, you can learn how to saute peppers and onions using simple ingredients and easy steps.
Sautéed Peppers and Onions
One of my all-time favorite combinations to serve with any meal is sauteed peppers and onions. The sweetness of the onions, combined with the flavors of bell peppers, creates a perfect harmony. Trust me, it's a match made in culinary heaven!
Not only does adding sauteed onions and peppers bring immense flavor to your dishes, but it's also incredibly easy to make. My family adores it when I saute peppers and onions for quesadillas, sandwiches (especially Philly cheesesteaks!), burgers, or even as a side dish for steak, chicken, or pork.
The beauty of sauteing peppers and onions lies in its simplicity and the endless possibilities for pairing them with other ingredients. I'd love to hear what you like to pair yours with, so feel free to share in the comments below!
Sautéing Onions and Peppers Ingredients
Olive oil
Bell peppers of your choice, sliced (we recommend green peppers)
Medium white or yellow onions, sliced
Garlic powder
Kosher salt and black pepper
I personally like to mix up the types of peppers I use based on the recipe I'm preparing. For instance, when making steak sandwiches or quesadillas, I tend to stick to green peppers. However, for fajitas, I always opt for a mix of peppers for added variety!
How to Sauté Peppers and Onions
Heat a skillet on the stove over medium-high heat. Add olive oil and wait for the pan to heat up (the oil will begin to shimmer). Once the pan is hot, add the peppers, onions, and garlic powder. Stir for approximately 5 minutes.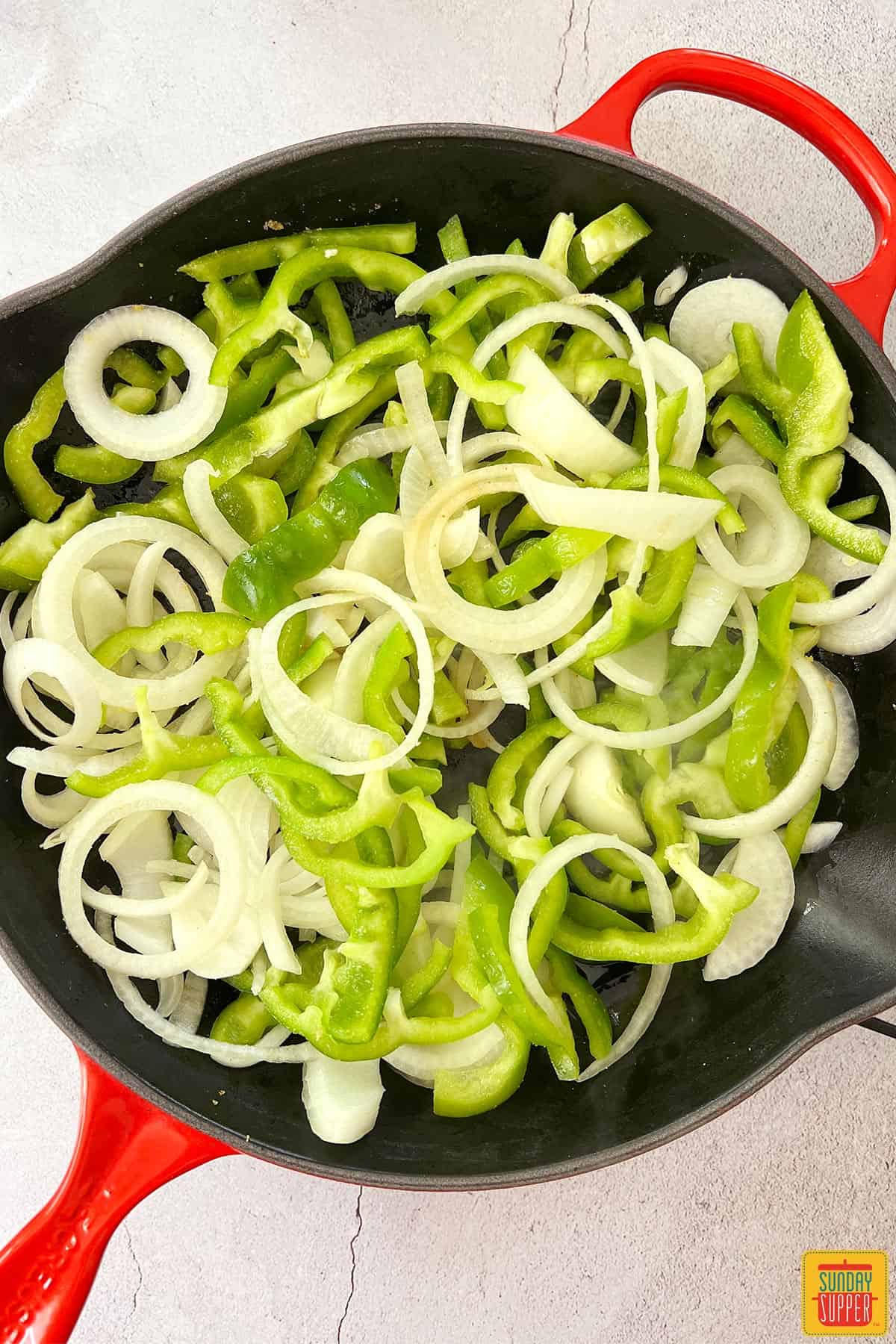 Season with salt and pepper to taste, and continue sauteing the onions and peppers until they turn golden brown, which should take about 10-15 minutes.
Serve and enjoy this mouthwatering dish!
Tips for Sautéing Onions and Peppers
Cook until the peppers and onions are nicely soft and golden brown. The flavor reaches its peak when they begin to caramelize.
Before seasoning with salt and pepper, let the peppers and onions cook for a while in the pan. This allows you to taste them and adjust the seasoning if necessary.
Feel free to experiment with different seasonings or fresh herbs. While salt, pepper, and garlic powder are simple and reliable choices, you can also try adding red pepper flakes for some heat.
For a flavor twist, consider adding a tablespoon of balsamic vinegar. It enhances the natural flavors of the onions.
Onions and Peppers FAQs
How to Store Peppers and Onions
Sauteed peppers and onions can be stored in an airtight container in the refrigerator for approximately 5 days.
If you have leftovers or want to prepare in advance, you can freeze them in an airtight container or freezer-safe bag for up to 4 months. Remember to label them with the freezing date for easy reference.
What to Serve with Sauteed Peppers and Onions
Steak Quesadillas
Philly Pork Sandwich
Hot Roast Beef Sandwich
Philly Cheesesteak Sliders
Add peppers and onions to this BBQ Chicken Pizza
Easy Vegetable Side Dishes
Sautéed Mushrooms and Onions
Perfect Caramelized Onions
Pickled Onions
Air Fryer Mushrooms
Blistered Shishito Peppers
Why not try my low carb Stuffed Peppers Recipe next? It's packed with flavor and makes for a satisfying meal!
📋 Recipe
Stay tuned for the detailed recipe on Takeout Food.