Pot sticker sauce is a delightful addition to any Asian appetizer. With its perfect blend of flavors, this homemade dipping sauce is both salty and tangy, with a touch of sweetness to balance it out. Once you try this sauce, it will become a staple in your house, complementing a variety of delicious appetizers and recipes. From egg rolls to cream cheese wontons and, of course, homemade pot stickers, this sauce is simply irresistible.
The Perfect Pot Sticker Dipping Sauce
No Asian-inspired appetizer spread would be complete without potsticker sauce. This savory and salty sauce elevates any dish it accompanies. Made with soy sauce, rice vinegar, and sesame oil, it offers a delightful combination of flavors. With its salty tang, hint of sweetness, and a touch of spice, you'll fall in love with how easy and delicious this sauce is to make.
Make your meal complete by serving pot stickers with this incredible dipping sauce. Pair it with easy fried rice, delectable cashew chicken, and your favorite lettuce wraps. Your family will be hooked on this meal, asking for it again and again.
Ingredients for Potsticker Sauce
Making this easy potsticker sauce only requires 5 pantry ingredients. The garnishes, although optional, add extra layers of flavor. This versatile recipe serves as a perfect dipping sauce for potstickers, dumplings, gyoza, and egg rolls – a must-have for all your favorite Asian appetizers.
Soy Sauce: Opt for low-sodium soy sauce to retain all the flavor while being heart-friendly.
Rice Vinegar: Adds a tangy element. For an authentic flavor, Chinese vinegar is highly recommended.
Sesame Oil: Look for sesame oil near the oils or vinegar section, or check the Asian aisle.
Sugar: Just a touch of sweetness to balance out the saltiness. You can use brown sugar or honey as substitutes.
Green Onions: Sliced green onions make the ideal garnish for this sauce.
Red Pepper Flakes: Optional but highly recommended if you enjoy a bit of heat.
Sesame Seeds: Adds fantastic flavor and texture, making it a beautiful garnish.
Easy Potsticker Sauce Recipe
Making this potsticker sauce is a breeze and takes less than 5 minutes! It delivers a delightful balance of tanginess and saltiness, with the perfect touch of sweetness and spice, if desired. You'll be amazed at how quickly this sauce comes together and the deliciousness it adds to your appetizers. It's the perfect way to take your appetizer game to the next level.
Combine Soy Sauce, Rice Vinegar, Sesame Oil, and Sugar: In a small bowl, whisk together the soy sauce, rice vinegar, sesame oil, and sugar until well combined.
Add Green Onion and Garnishes: Stir in the sliced green onion, then garnish with red pepper flakes and sesame seeds.
Serve and Enjoy: Before serving, give the sauce another good whisk. Now it's ready to be savored as a dipping sauce for potstickers, egg rolls, gyoza, or wontons.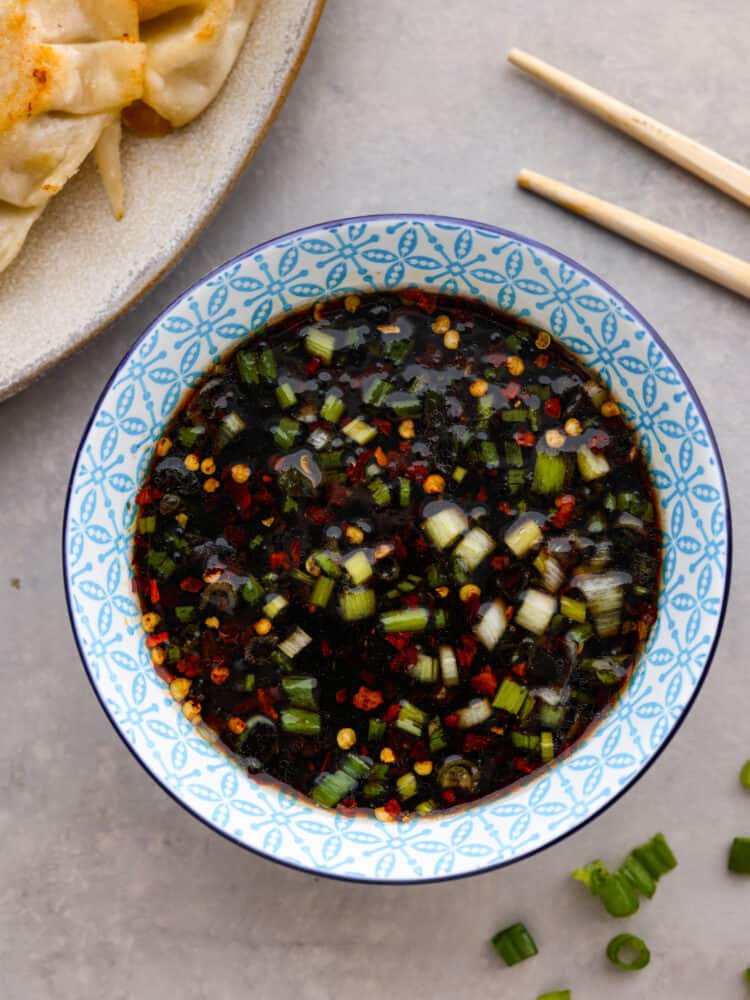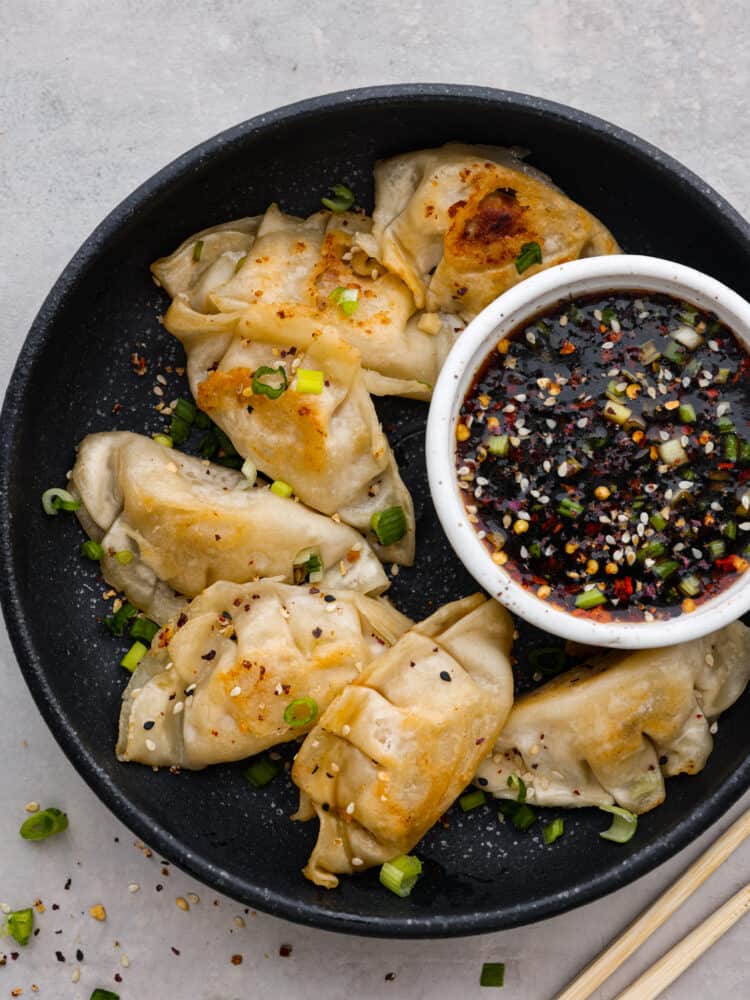 Now that you have this incredible pot sticker sauce recipe, get ready to take your Asian-inspired dishes to new heights of flavor. Whether you're entertaining guests or having a cozy night in, this dipping sauce will add that extra touch of deliciousness to your favorite appetizers. Don't wait any longer – try it out and experience the magic for yourself. Don't forget to visit Takeout Food for more mouthwatering recipes and culinary inspiration.