Made popular by Asian takeout, Chinese brown sauce is a delectable and versatile sauce that adds incredible flavor to stir fry entrees and noodles. Move over bottled sauces, because with this simple recipe, you can whip up your own homemade brown sauce in less than 5 minutes! Let's dive in and discover how to create this addictive sauce that will take your dishes to the next level.

A versatile sauce for your stir fry dishes and noodles.
What is Chinese Brown Sauce?
Chinese brown sauce, also known as Chinese garlic sauce or stir fry sauce, is that glossy and semi-viscous sauce you find slathered over most North American Chinese takeout dishes. It's a must-have element in almost every menu item featuring noodles, rice, or stir-fries. And it's no wonder why—it adds a delightful sweet and savory note and a succulent mouthfeel to any dish.
A "Mother" Sauce
It's important to note that brown sauce is a general term for the sauce used in Chinese takeout dishes. There are many variations because it serves as a base "mother sauce" that cooks adapt to highlight the key flavors of the dishes it accompanies. Brown sauce plays a crucial role in bringing all the ingredients together harmoniously. So, if you're aiming to recreate the flavors of Chinese takeout at home, learning how to make brown sauce is a must!
What Are the Basic Ingredients?
While there are various variations, most brown sauce recipes incorporate six common ingredients:
Soy Sauce
Soy sauce is the key ingredient in brown sauce. Opt for light soy sauce, which complements most ingredients without overpowering them.
Rice Wine or Shaoxing Wine
Rice wine or Shaoxing wine adds depth and acidity to the brown sauce.
Oyster Sauce
Oyster sauce lends a rich umami flavor to the sauce. It's the secret ingredient responsible for the addictive quality of Chinese takeout!
Sugar
Sugar balances out the sauce, preventing it from being predominantly salty.
Broth
Broth adds additional flavor depth to the sauce. Choose chicken or beef broth depending on the dish you're pairing the sauce with.
Cornstarch Slurry
The cornstarch slurry, a mixture of cornstarch and water, serves as the sauce thickener. The ratio is 1 part cornstarch to 2 parts water. This creates the beloved thick consistency of the brown sauce we all know and love. 😊
Variations and Add-Ons
Chinese brown sauce is a versatile base sauce that welcomes a variety of add-ons and variations. Along with the base ingredients, feel free to throw in additional flavorings to create your own unique stir fry. Here are some popular add-ons:
Garlic (minced)
Ginger (minced or sliced)
Dark soy sauce (for a richer flavor in beef dishes)
Sesame oil (added at the very end of cooking)
Green onions (finely chopped)
White pepper (ground for a little peppery kick)
Green chilies (minced for spice lovers)
Red pepper flakes (add a bit of spice!)
Sesame seeds (for added texture)

Chinese brown sauce is semi-viscous and glossy in appearance.
Expert Tips
Here are some expert tips to help you easily make Chinese brown sauce at home while allowing for personal preferences:
Dark Soy Sauce (vs. Light Soy)
If you prefer a deeper flavor and a darker color, you can use dark soy sauce interchangeably with or in addition to light soy sauce in this brown sauce recipe. Just keep in mind that dark soy sauce (also known as mushroom-flavored soy sauce) has a more intense flavor and may overpower delicate ingredients like fish or seafood. It's best suited for richer dishes like beef, sausage, or lamb. The classic Chinese beef and broccoli dish famously calls for dark soy sauce!
Choose the "Right" Broth for Your Dish
While any broth can be used for this sauce, make a wise choice based on your dish. Chicken broth pairs well with pork, chicken, or fish, while beef broth complements beef and other richer proteins. Use vegetable broth for vegan or vegetarian dishes like bok choy or tofu. You may also need to adjust the seasoning to taste or add a bit more soy sauce if your broth is unsalted.
Use a Cornstarch Slurry to Control Sauce Thickness
Your brown sauce should coat a spoon when finished simmering. Always simmer your brown sauce over low heat before adding the cornstarch slurry. To control the sauce's consistency, add the slurry gradually, every 30 seconds, to temper the thickness (depending on how high your heat is). The longer you cook the slurry, the thicker it will become as it reduces. Once cooled, the sauce will also thicken slightly. If your sauce is too thick, you can add additional broth or water to thin it out.
Make the Sauce Last and in the Same Stir Fry Pan
For a quick stir fry, prepare the brown sauce AFTER stir-frying your main ingredients, and use the same pan or wok. This method allows the flavors to meld together and adds depth to your dish. Once the sauce is cooked, add your stir fry ingredients back into the wok, toss, and coat everything together for about a minute.
For Stir Fry Sauce, Cook Your Aromatics First in Heated Oil
For the best flavor, heat oil in your wok or pan over medium heat and fry your aromatics (such as garlic, ginger, etc.) for 30-60 seconds without browning them. This will infuse the oil and result in an overall tastier sauce.
For Braised Dishes
If you're making a braised dish, add all the brown sauce ingredients (except the cornstarch slurry) into your braising pot. Once your dish is cooked through, add the cornstarch slurry to thicken the braising liquid into a delicious sauce. Check out my ground pork and zucchini recipe for an easy weeknight meal that demonstrates this technique.
Time-Saving Tips
If you're in a hurry and need to whip up a sauce quickly, try these tips to speed up the process:
Use Garlic and Ginger Powder
If you don't have time to prep fresh aromatics, I recommend using powdered garlic and ginger. My recipe provides options for both the "easy" and "gourmet" methods.
Mix All the Ingredients in a Jar Beforehand
Mix the broth, rice wine, soy sauce, oyster sauce, and sugar in a jar and store it in your fridge. If you're opting for the quick method, add the powdered garlic and ginger to the jar as well. If you're using fresh garlic and ginger, I still recommend following these steps on the day of cooking. And if your stir fry already includes fresh garlic and ginger, you can even omit the garlic from the sauce since it's already present in your dish!
How to Make Chinese Brown Sauce at Home – Step by Step Instructions
This is my version of a versatile brown sauce that incorporates the essential garlic and ginger flavors of Chinese cooking.

Use ginger and garlic powder if you're short on time.
Quick Method
This method skips the use of fresh aromatics and instead relies on powdered garlic and ginger, making it a time-saver that takes less than 5 minutes to prepare.
Step 1: Using the same cooking wok/pan (if applicable), add the broth, rice wine, soy sauce, oyster sauce, brown sugar, garlic powder, and ginger powder. Stir and bring to a simmer.
Step 2: Reduce the heat to low and add half of the cornstarch slurry. Stir for 15-30 seconds.
Step 3: Add the remaining cornstarch slurry for a thicker consistency if desired. The sauce should coat a spoon.
Step 4: Stir in sesame oil (if using).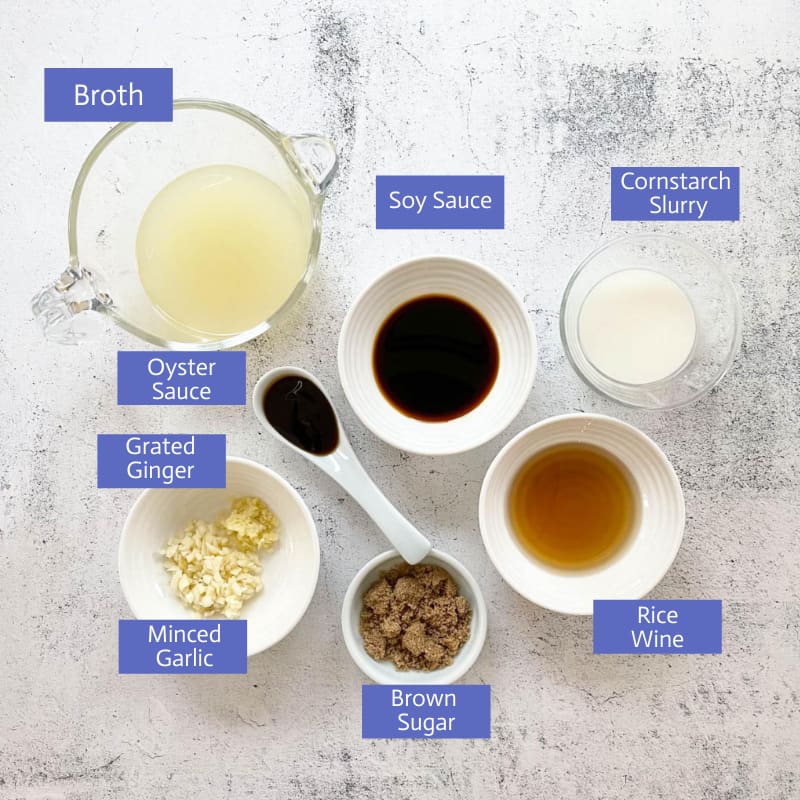 Use fresh minced garlic and grated ginger for the authentic cooking method of making brown sauce.
Gourmet Method
This method takes a bit more time as it involves using prepped aromatics and heated oil. However, it results in a tastier sauce with more depth.
Step 1: Using the same cooking wok/pan (if applicable), heat the wok/pan on medium/high heat and add oil.
Step 2: Add minced garlic and grated ginger and fry for 30 seconds to infuse the oil.
Step 3: Deglaze the pot by adding the broth, rice wine, soy sauce, oyster sauce, and brown sugar. Stir and bring to a simmer.
Step 4: Reduce the heat to low and add half of the cornstarch slurry. Stir for 15-30 seconds.
Step 5: Add the remaining cornstarch slurry for a thicker consistency if desired.
Step 6: Stir in sesame oil (if using).
Serving Tips
Chinese brown sauce is best served hot and immediately after cooking. Toss it together with your stir fry dish, coat your noodles, or pour it over steamed rice topped with a fried egg. This sauce is super versatile!
Storing Tips
If you've made this sauce in advance, let it cool completely and store the leftovers in a sealed jar. The sauce can be stored for up to 3-5 days. When reheating the sauce in a saucepan, add a bit of water and mix it to thin it out.

Store Chinese brown sauce in a jar and refrigerate for up to 3 days.
Substitutions
Here are some optional substitutions you can make:
Cornstarch
Any starch can work for this sauce. Potato starch or arrowroot flour can be used as a 1-to-1 substitution for cornstarch. Tapioca starch will give your sauce a glossier look, but you'll need to use twice the amount (2-to-1 substitution) compared to cornstarch.
Sugar
Brown sauce requires a sweet component (unless you're using hoisin sauce instead of oyster sauce). You can use brown or white sugar, as well as honey or maple syrup. Most Chinese restaurants (and my parents) use white sugar in their sauces.
Rice Wine/Shaoxing Wine
If you don't have rice wine on hand, you can use a good quality dry sherry as a substitute. Avoid using rice wine vinegar, as it is not the same as rice wine and will create a sour note in the sauce. Japanese wines like sake and mirin will also alter the flavors, so I wouldn't recommend them. If sherry is unavailable, simply omit the wine.
Oyster Sauce
Hoisin sauce can be used as a 1-to-1 substitution for oyster sauce. However, be aware that it will change the flavor, making the sauce sweeter. Oyster sauce has a more pronounced seafood umami flavor and is saltier due to the oyster extracts it contains. Hoisin sauce, on the other hand, is based on soybeans and imparts flavors of sesame. It is commonly used as a standalone dipping sauce. If you opt for hoisin sauce, I recommend removing the sugar from this recipe entirely and adding an extra tablespoon of soy sauce.

Chinese brown sauce should coat a spoon nicely. This means your noodles and stir fry will be coated perfectly too!
Frequently Asked Questions
Stay tuned for frequently asked questions about Chinese brown sauce!
That wraps up our guide on how to make irresistible Chinese brown sauce. Now you can skip the takeout and enjoy the authentic flavors of homemade Asian cuisine. Remember to experiment with different add-ons and variations to create your own signature brown sauce. You've got this! And if you need more culinary inspiration, head over to Takeout Food for more mouthwatering recipes.
Happy stir frying! 🥢🍜