Are you tired of bland and boring vegetable sides? Well, get ready to be blown away by this flavorful and yummy recipe for Potatoes and Green Beans. With the perfect blend of garlic and seasonings, this oven-roasted veggie dish will surely become your new favorite.
A Burst of Flavor and Crunch
Vegetables often get a bad rap for being dull, but this recipe proves otherwise. These Potatoes and Green Beans are cooked to perfection, with the potatoes being tender and the green beans retaining a delightful crunch. The minced garlic and well-balanced seasonings elevate the taste and texture of this dish. You won't believe how well these flavors complement each other.
The Perfect Time-Saver
Not only is this dish packed with flavor, but it also combines starches and green veggies in one go, saving you precious time in the kitchen. Whether you're serving guests or simply feeding your family on a weeknight, this recipe delivers on taste and convenience. Plus, you can easily heat it up ahead of time, making it an ideal choice for meal prepping.
What You'll Need
To make this mouthwatering dish, you'll need the following ingredients:
Potatoes (Yukon Golds are recommended, but you can use any variety)
Green beans (look for fresh and bright green ones)
Olive oil (or your preferred cooking oil)
Taco seasoning (or your favorite seasoning)
Oregano (for an aromatic and earthy flavor)
Garlic (freshly minced or store-bought)
Salt & Pepper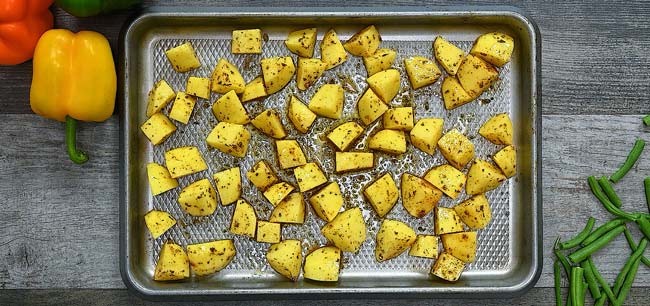 Let's Get Cooking
Now that we have our ingredients ready, here's how you can make this delightful dish:
Peel the potatoes and cut them into medium-sized cubes. Place the cubes in a mixing bowl and add olive oil, taco seasoning, oregano, salt, and pepper. Mix everything well.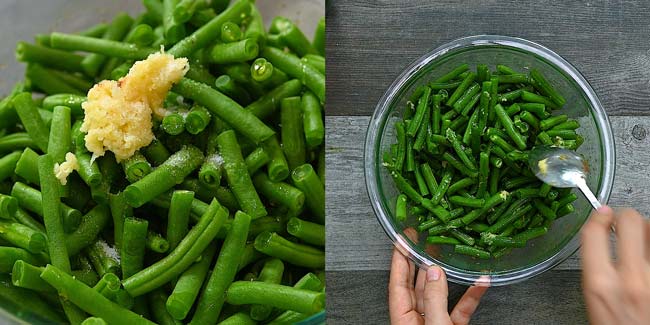 Transfer the seasoned potatoes to a large baking sheet and spread them out evenly. Bake them at 400 degrees Fahrenheit for 15 minutes.

While the potatoes are baking, add the green beans to the same mixing bowl (no need to wash it). Add olive oil, garlic, and salt. Stir everything together.

Remove the partially cooked potatoes from the oven and add the green beans. Gently mix everything together. Return the baking sheet to the oven and bake for another 20-30 minutes, or until the beans and potatoes are cooked through. Serve and enjoy!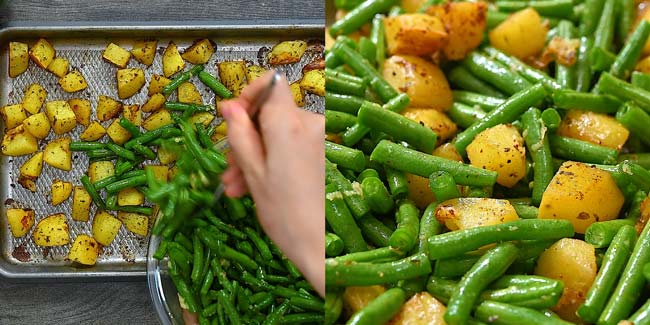 Pro Tips for Perfect Results
Cook the potatoes first before adding the green beans. Cooking potatoes for 15 minutes beforehand ensures that the green beans won't turn mushy during the final cook time in the oven.
Make this dish ahead of time. It's convenient because you can cook it in advance and keep it warm in the oven while you prep other dishes. Alternatively, you can make it the day before and store it in the fridge, reheating it right before dinner is served.
Storage and Reheating
If you have leftovers, you can store these Potatoes and Green Beans in an airtight container in the refrigerator. They will remain fresh for 3-5 days. To reheat, place them back on a baking sheet and warm them in the oven at 350 degrees for a few minutes. Alternatively, you can use the microwave if you prefer.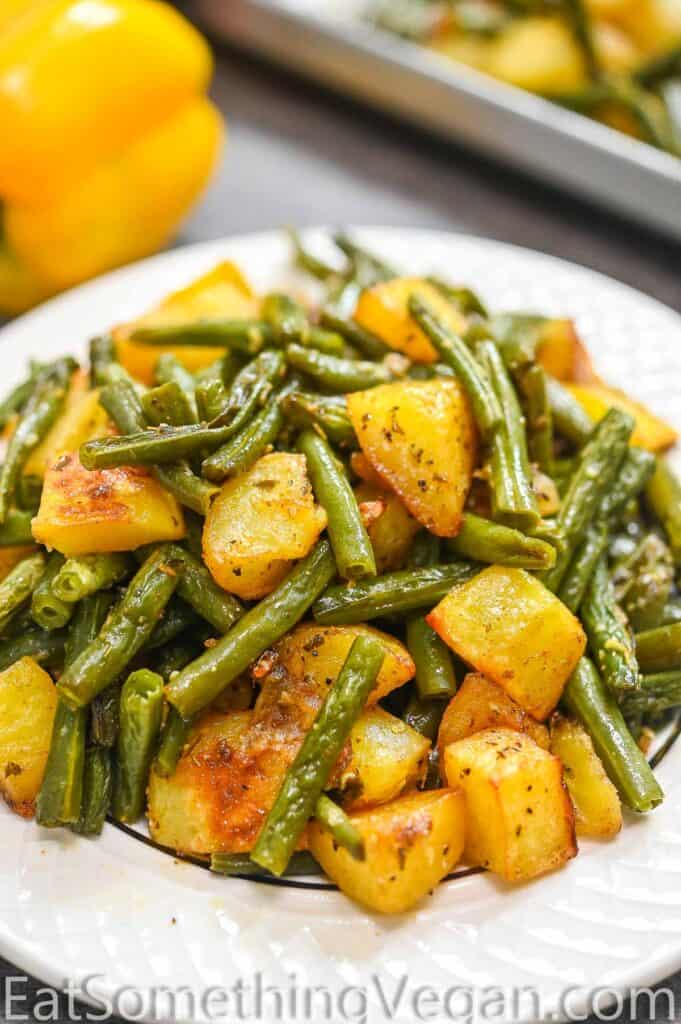 A Healthy and Enjoyable Side Dish
Not only is this vegan side dish bursting with flavor, but it's also gluten-free, dairy-free, and plant-based. It's a great way to serve these standard vegetables in a healthy and enjoyable manner. Pair them with your favorite main dish, and you're in for a flavorful meal!
If you're interested in more scrumptious recipes, be sure to check out these options:
Vegan Mushroom Sauce
Vegan Scalloped Potatoes
Garlic Roasted Okra
Creamy Zucchini Sauce
Psst! I think you'd also love this Roasted Cabbage!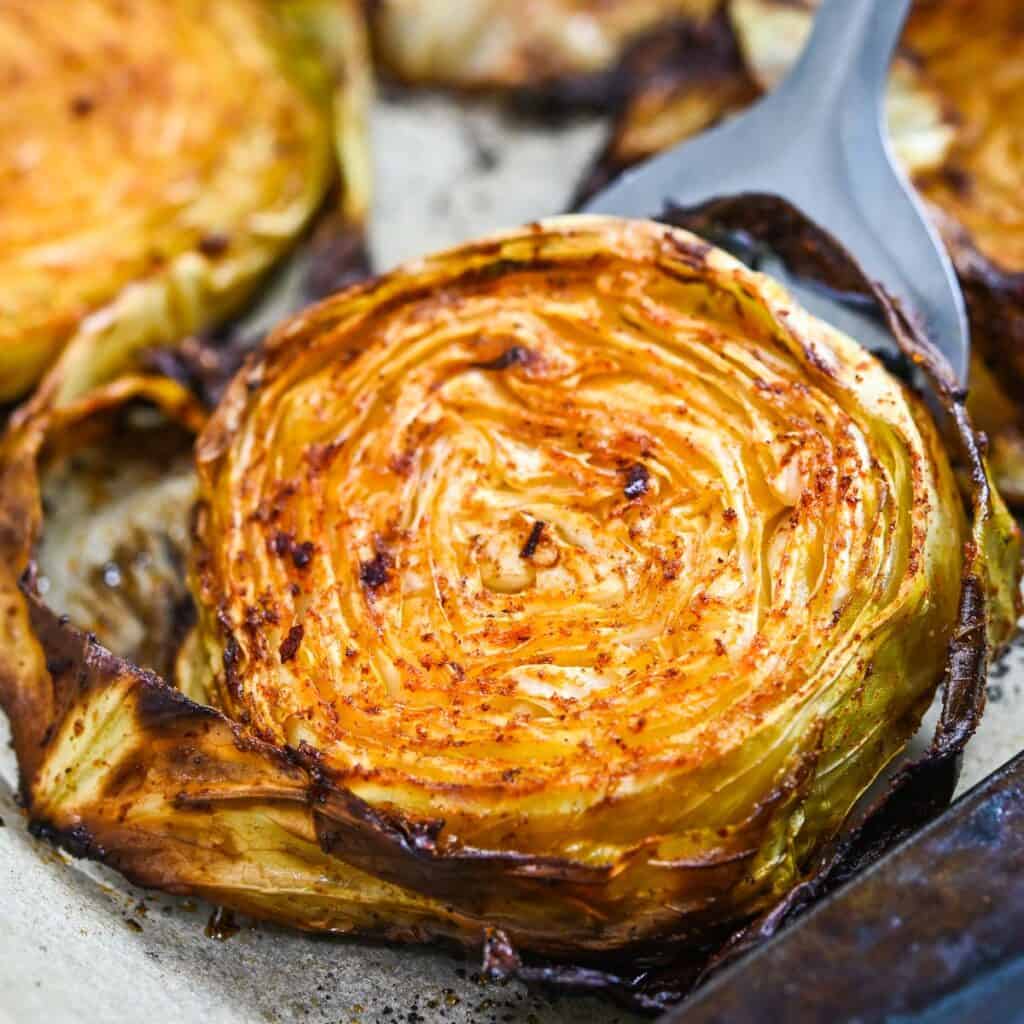 So gather your ingredients, follow the simple steps, and indulge in this delightful Potatoes and Green Beans recipe. Your taste buds will thank you! And for more mouthwatering recipes, visit Takeout Food.