What's better than enjoying a generous scoop of vegan ice cream? How about having it sandwiched between two delicious cookies? Whether you're a fan of the classic vanilla and chocolate combo or prefer a softer chocolate chip sandwich, vegan ice cream sandwiches are a delightful treat that you can enjoy all year round. With an increasing number of dairy-free options available in the market, it's time to take a break from the pint and stock up on these delectable handholds.
What's Inside Vegan Ice Cream Sandwiches?
The beauty of vegan ice cream sandwiches lies in their versatility. Just like dairy-free pints, these delightful treats come in a variety of flavors and ingredients. You can find options made from oat, almond, coconut, cashew, soy, pea protein, and even precision fermentation. While this list covers the options you can find in stores, don't forget to check out your local scoop shop, as they might have their own dairy-free frozen sammies on offer.
10 Vegan Ice Cream Sandwiches You Can Find in Stores
We've scoured the freezer aisles of our favorite supermarkets to find the most mouthwatering combinations of cookies and ice cream. Here are some of the vegan ice cream sandwiches that we discovered:
1. Coolhaus
Craving variety? Coolhaus has got you covered. Available at Whole Foods and other grocers, they offer a wide spectrum of artisan dairy-free sammie flavors. From Tahitian Vanilla and Cookies & Cream to Dirty Mint Chip, Cookie Dough Lyfe, Horchata, and "The O.G." with vanilla ice cream and two chocolate cookies. If you're gluten-free, they also have a version of Tahitian Vanilla with oat and cassava flour chocolate chip cookies. Fun fact: Coolhaus collaborated with Brave Robot, a precision fermentation startup, to create a vegan ice cream sandwich made with animal-free whey. Get it here.
2. Cosmic Bliss
Cosmic Bliss, formerly known as Coconut Bliss, takes your traditional chocolate chip cookie ice cream sandwich to the next level. The soft, chocolate-studded cookie is both gluten-free and hemp-based, making it a perfect choice for those with food sensitivities. You can't go wrong with the organic Madagascan vanilla or the dark chocolate flavor. Get it here.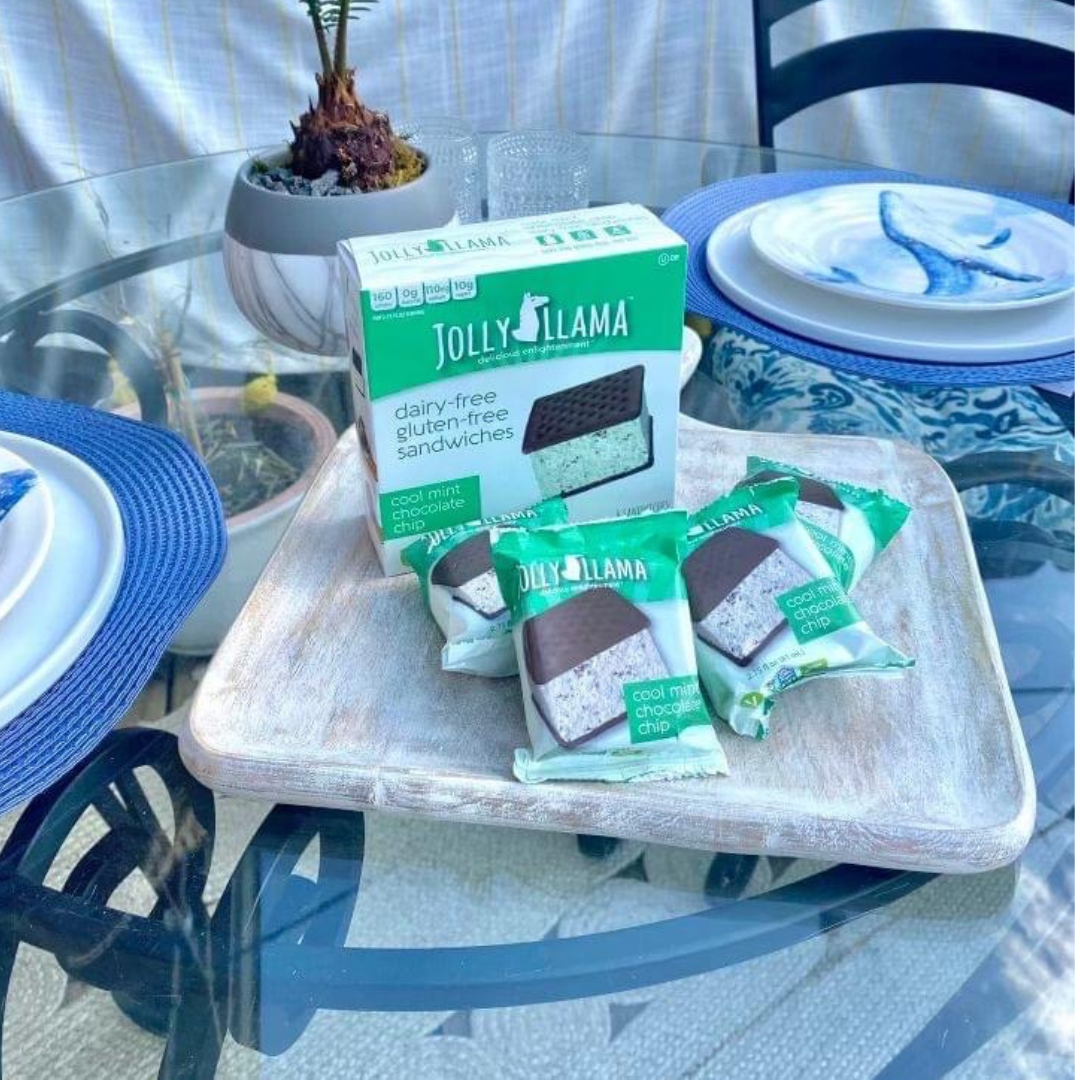 3. Jolly Llama
Starting as a sorbet fruit pop company, Jolly Llama has expanded into more indulgent coconut cream-based novelties. Their vanilla and mint chocolate chip ice cream sandwiches are so thick that you might consider using a knife and fork. In addition to these heavenly ice cream sandwiches, Jolly Llama also offers iconic dairy-free ice cream sundae cones. Trust us, you'll want to stock up on every flavor. Get it here.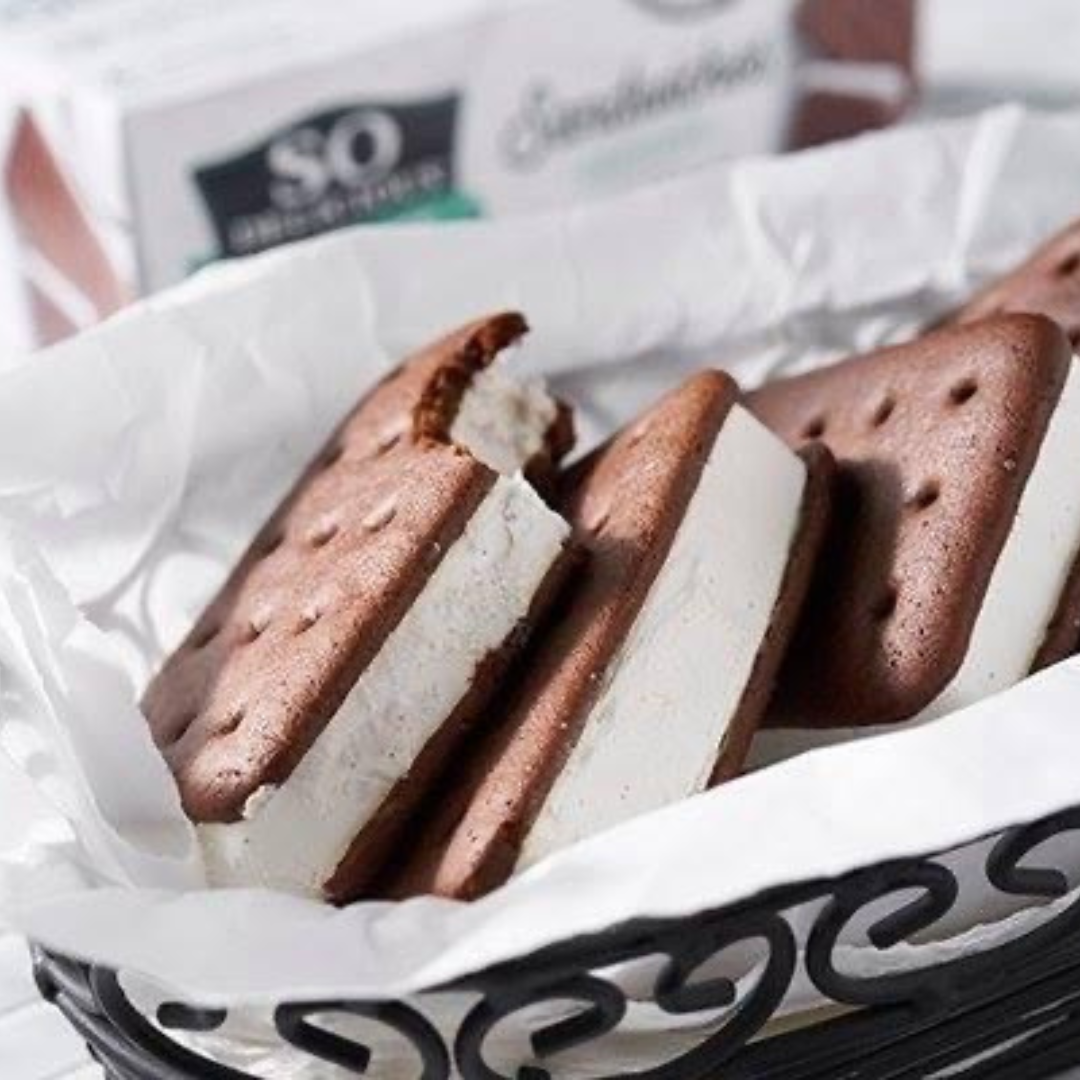 4. So Delicious
In the never-ending debate over which plant milk makes the best ice cream, So Delicious plays the field by offering coconut milk and almond milk varieties. Choose from their classic vanilla bean or chocolate wafer sandwiches, or better yet, get a box of each and conduct an at-home taste test. You get to decide which milk reigns supreme. Get it here.
5. Tofutti Cuties
Before the rise of non-dairy Ben & Jerry's and other vegan options, there were Tofutti Cuties. These snack-sized sweets are the OG of non-dairy novelties. Get creative with Cuties by sandwiching two together with a schmear of peanut butter or creating an ice cream sammie sundae topped with vegan whip, hot fudge, caramel sauce, chopped nuts, and a cherry! Don't forget to explore beyond vanilla; the chocolate and mint flavors are exceptional. Get it here.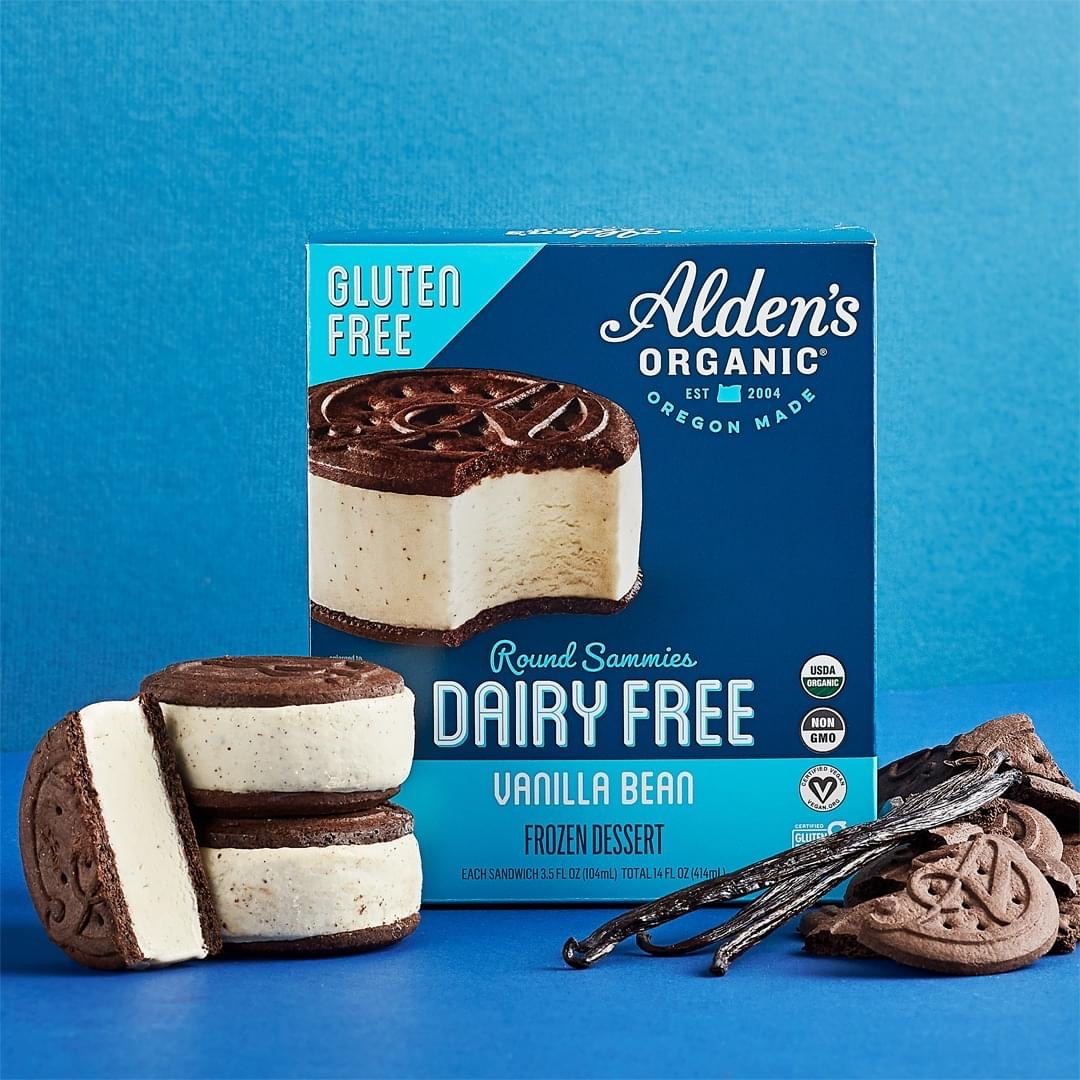 6. Alden's Organic
When dairy-based companies venture into the vegan realm, the result is remarkably delicious. Alden's Organic not only offers dairy-free pints but also tantalizing vegan ice cream sandwiches. Their Caramel Drizzle flavor features coconut and oat-based ice cream swirled with dairy-free salted caramel, all nestled between two delightful cookie wafers. The classic Vanilla Bean flavor is a chocolate-and-vanilla dream. Get it here.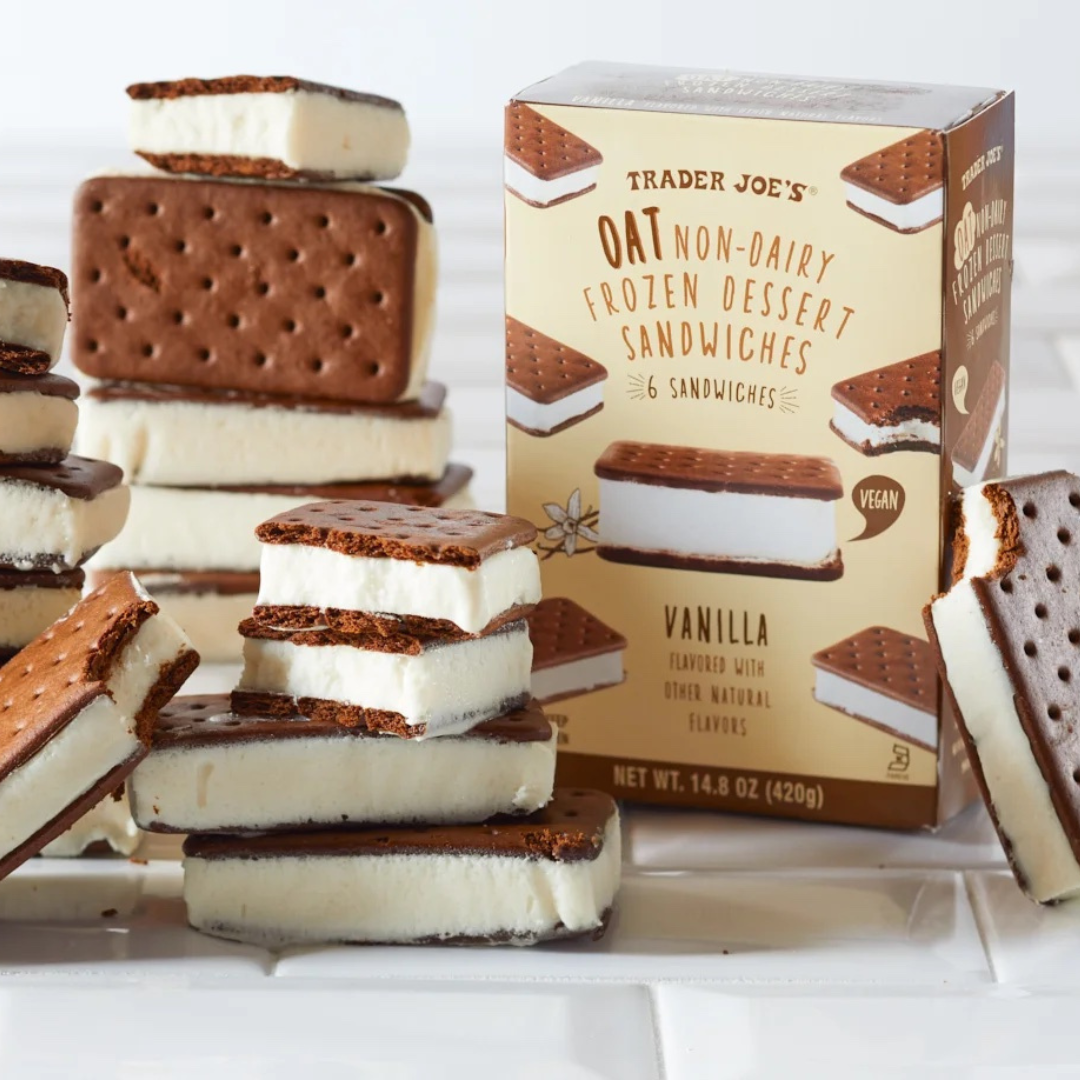 7. Trader Joe's
Trader Joe's always manages to excite us with their unique offerings, and vegan ice cream is no exception. Their "frozen dessert sandwiches" have a similar concept to Tofutti Cuties but are made with oat-based ice cream instead of soy. We hope this delightful treat sticks around for years to come. Get it here.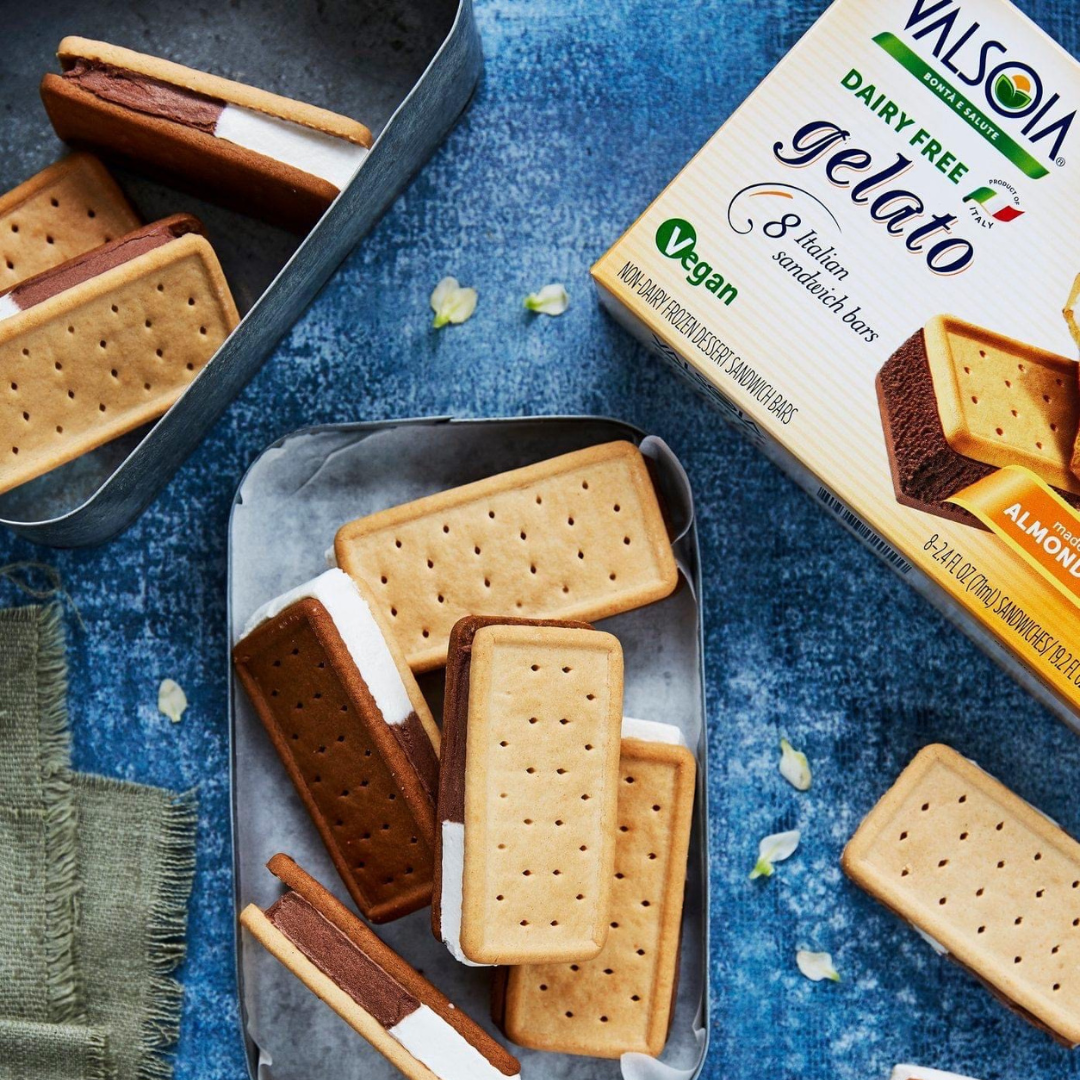 8. Valsoia
This Italian brand offers dairy-free pints, cones, and ice cream sandwiches. Their duo gelato sandwich bars are stuffed with a smooth, half-chocolate, half-vanilla almond-based gelato. Valsoia also creates vanilla ice cream sandwiches with chocolatey wafers, sold in a box of eight. Beware, they're so bite-sized and delicious that you might find yourself eating them all in one sitting. Get it here.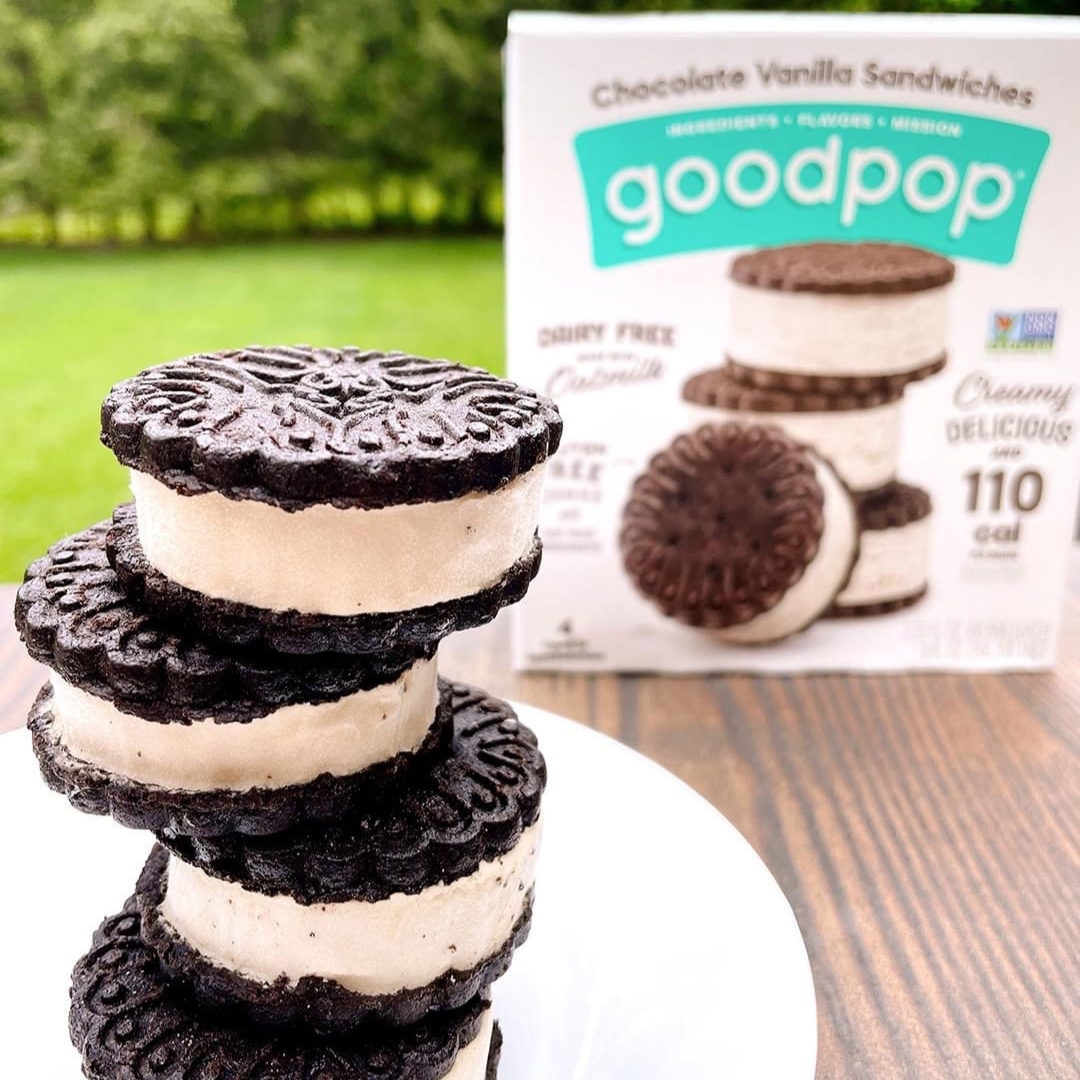 9. Goodpops
Known for their natural fruit popsicles, GoodPop also dabbles in dairy-free ice cream. Their Chocolate Vanilla Sandwiches feature gluten-free chocolate cookies with vanilla oat milk ice cream. Made without refined sugar, sugar alcohol sweeteners, or artificial dyes, these sandwiches are a guilt-free indulgence. Cheers to dairy-free ice cream sandwiches! Get it here.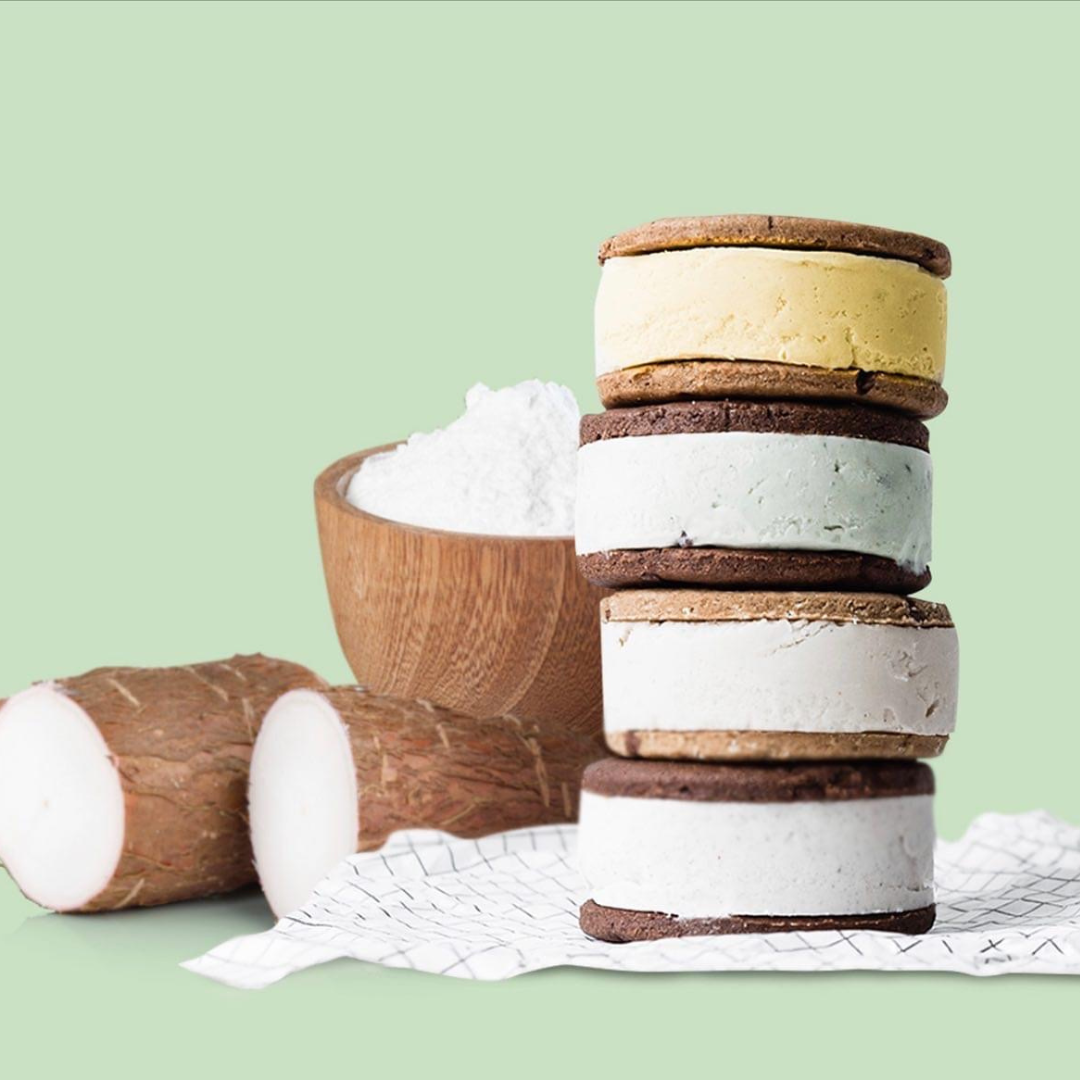 10. Green Girl Bakeshop
For those seeking gluten- and dairy-free options, Green Girl Bakeshop is the way to go. Their artisan ice cream sandwiches are made with superfood ingredients that have been used in traditional medicines for centuries. From turmeric to reishi and ashwagandha, these cookies are made from cassava flour, sweetened with organic applesauce and coconut sugar. The ice cream itself is crafted from creamy coconut milk. Get it here.
Now that you know where to find these delectable vegan ice cream sandwiches, it's time to indulge in a guilt-free treat. Treat yourself to the creamy, flavorful experience of dairy-free ice cream sandwiched between two delectable cookies. Enjoy the diverse flavors and textures while knowing that you're making a compassionate choice for animals and the environment. Happy snacking!